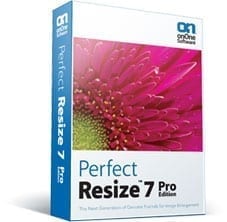 onOne's Perfect Resize Pro software is the perfect software partner for your large format printer.
Perfect Resize 7 Pro, formerly Genuine Fractals, increases image size without the loss of sharpness or detail that you might normally expect. The same patented, fractal-based interpolation algorithms that were in Genuine Fractals are at the heart of Perfect Resize 7 Pro with several improvements. New gallery wrap, tiling and batch processing tools, sharpening controls, and built-in document size presets add to the power of Perfect Resize and make it even better for enlarging and preparing all types of images for print. It is ideal to use with photos taken with DSLR cameras as well as snapshots taken with mobile devices.
Perfect Resize 7 Pro can now be used as a standalone application, or directly with Adobe Photoshop, Photoshop Elements, Lightroom or Apple Aperture as plug-ins. Perfect Resize is also available as a Standard Edition. See how it compares to determine which is right for you.