Large Format Now Comes On A Meter. With Inclusive eService Agreement
Ink inclusive service agreement from RGBuk is exactly what it says on the tin. It is a fully comprehensive service agreement for large format printers which is billable through the consumption of ink so that you can take charge of your printing expenses.
How Does It Work?
Automatic ink tank and maintenance cartridge replenishment, the highest levels of support and maintenance plus remote uptime monitoring furthermore, eService is based entirely on the millilitres of ink you use each month, so you only pay for what you print, as you print it.
24/7 Our system will automatically monitor your Canon large format printer in order to get the latest updates on:
Ink Levels
Service History
Printer Status
Maintenance Cartridge Levels
Print Head Status
Lets talk cost.
In short, the cost per page is variable (the more ink used, the higher the cost per page).
Cover Matches Lease Agreements
Provided with the choice of 3 year, 4 year or 5 year cover to match any equipment lease terms the inclusive ink eservice agreement is perfect for you and your business.
Monthly Billing
A new, non-intrusive software from Canon sends regular readings to a Cloud server, as well as communicating with your printer for finding errors, therefore allowing us to provide solutions even faster.
Comprehensive Cover
Just like a copier service agreement, the ink inclusive service agreement includes all labour additionally, parts and consumables for the entire term (excludes paper).
Want To Know More about eService?
Contact us for further information regarding, pricing, product literature and customer demonstrations.
We can help you pick the right machine for your business and usecase and answer any questions that you
may have.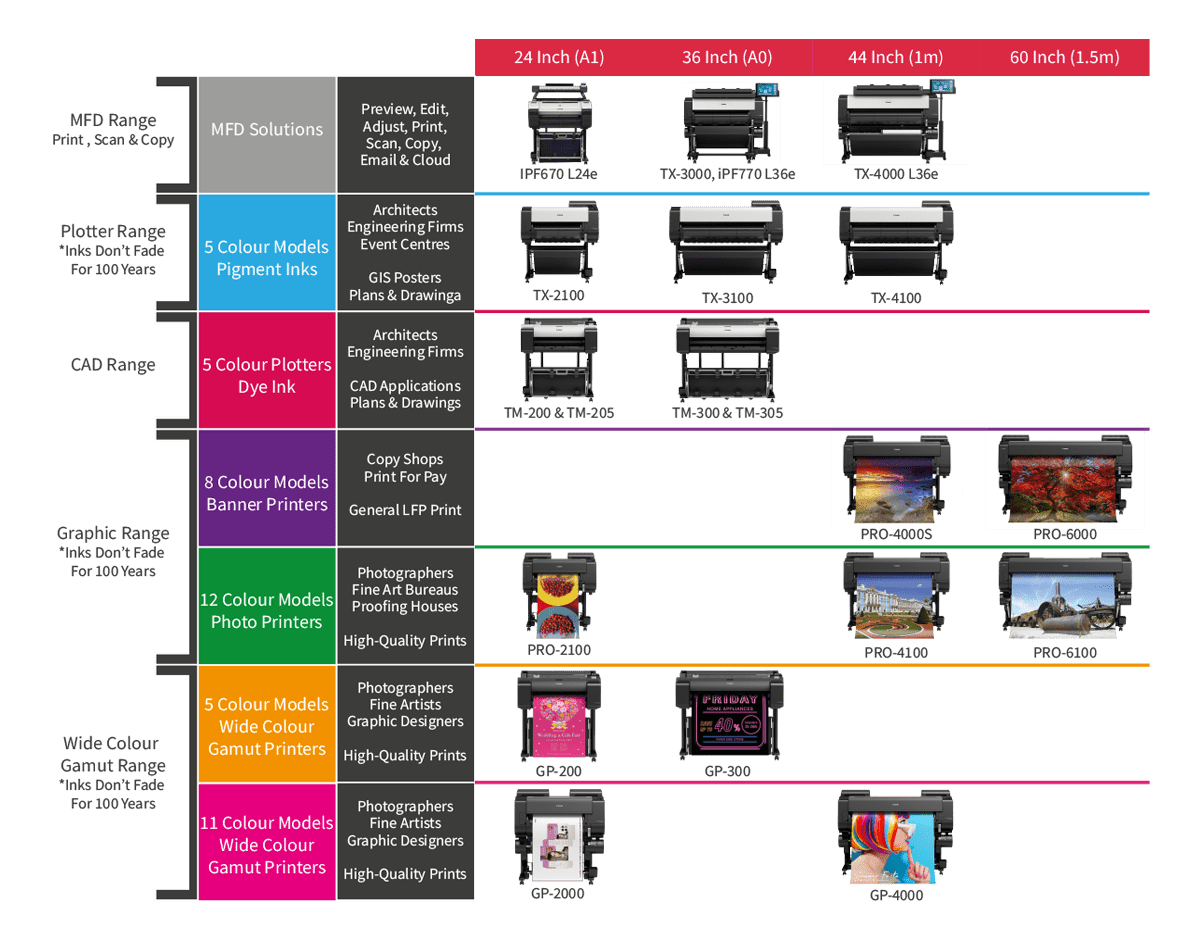 The Important Stuff:
As a rule of thumb, there are 2 questions that will lead you to choosing the right printer for you:

Question 1 – "What size do I want to print up to?"
Visible on table located to the side, each model is categorised by its maximum printing size, where you will see the sizing chart (A0, A1, A2 and more.

Question 2 – "What will I be using the machine for?"
All of the printers to the left are capable of producing photo-realistic & graphical images onto a wide range of paper medias meanwhile being designed for specific use cases. Refer to the table to the right to see which of our large format printer offerings would be suitable for your application.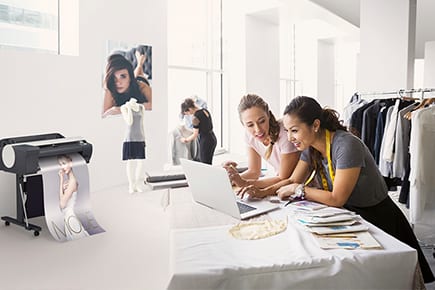 eService Portal
eService inclusive agreement provides you with immediate access to our eService Portal, on which you will be greeted with a summary page with key detailed information regarding your LFP whenever you need it.
Such as the following:
Summary
Warnings & Errors
Media Info
Ink (levels and useage)
Printer Information
Much More
Done here? Why not check out our youtube channel for more informative while interesting content!