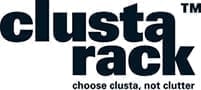 Clustarack, Available with either 2" or 3" diameter prongs, or a combination of both, covering all materials supplied in the large format print and finishing market place.
Clustarack is available in four sizes – whether you are running one machine or you have multiple machines, we have racks to suit. Flat base with fitted prongs – Clustarack is designed to organise your media, prevent toppling and protect your rolls.
What does a clustarack™ do for you?
Space saving design
no more media rolls leant precariously against walls
no need to store rolls horizontally, eliminating flat spots
flat based design, giving 100% protection to your rolls of media
all media types and roll lengths in one convenient place
holds bare cores for use with take up reels
protects full and part rolls from damage preventing media waste
prevents printhead snags and machine downtime
designed to prevent media falling over if knocked
Showing all 4 results